Manitoba Trail Riding Club
Meeting Minutes
November 16, 2019
Location: Smitty's, Selkirk, MB
Attendance: Angela Roberts, Iris Oleksuk, Terry McKee, Tricia Mason, Troi Anderson, Brenda Tolpa, Tammy Storie, Judy Olson, Linda Gillies, Linda Cruden, Kelli Hayhurst, Mary Anne Kirk, Susan Heald, Carrie Wilson, Kate Wilson, Natalie Nordin
Meeting Called to Order: 9:02 am
Additions to the Agenda: Inventory List and Bud Spud and Bird Tickets for sale.
Acceptance of the last Annual General Meeting Minutes: Motion to accept Kelli Hayhurst, 2nd by Terry McKee, carried.
Treasurer's Report: $2189.00 GIC, $3996.67 Chequing
Membership – 38 Single, 8 Family Total 54
Income Statement: Attached
Bills: $117.41 Kelli Hayhurst for reusable plates, cutlery and part of hall rental fee
$325.00 Elizabeth Bima for hall rental fee
$61.60 Angela Roberts for the printing of the Bud/Spud & Bird Tickets
$562.95 Terry McKee for awards
Motion to accept Angela Roberts, 2nd Troi Anderson, carried
President's Report: Iris Oleksuk stated the following:
We had a fabulous year with many new riders and many riders at the rides.
We had some problems such as having to move the Sandilands ride to a new location but the good thing is, we found a new spot to stage the ride. Thanks to Janine for marking trail there.
At Belair, we had Susan Heald manage a ride for the first time and I would like to thank her for stepping up.
The two-day ride at Spruce Woods was well received even if the weather didn't cooperate on the second day. Thanks to Angela for running that ride and to all the trail markers and demarkers.
Also, thanks to Shannon Lightfoot for managing a two-day ride at Birds Hill Park. Lots of riders and good weather.
MEC was a challenge due to a change in format. However, we had Natalie Nordin day-manage, so thanks to her. Another challenge will be Safe Sport and the Coach's Levy.
I would also personally like to thank the Board for all of their hard work. Thanks to Kelli for keeping track of the points, doing the pamphlet, and helping with the inventory. She also keeps me on track and answers all of my questions. Thanks to Angela for getting the minutes out so fast, also for helping with awards and for letting me bounce ideas off of her. Terry, you have been a big help with awards and other things, so thanks. Mary Anne you have a huge job with all of the e transfers and keeping track of memberships as well as the money. Filling out MHC forms is ongoing and lots of work. Thanks for all you do.
Susan has done work on the bylaws and the Ride Manager's Handbook as well as organizing the clinic. Thank you.
Darice, thanks for the pictures and Brenda for working on the album.
Elizabeth works hard organizing the inventory. Thanks, I am so happy it's not in my garage or basement.
Carrie, thank you for all of your hard work on the website and Facebook pages.
I know that I have missed many that have helped out. My whole point here is that many, many members have done lots to help out and I haven't even touched on all the volunteers at the rides.\We need ride managers and trail markers. Many are a bit scared to step up but working with someone experienced really helps.
Here's to a great ride season!
Vice President's Report: Terry McKee stated the following:
She attended every meeting but one on 8 Oct, 2019, helped mark and demark trails for the 15/16 June ride and MEC in September. She helped mark trails for our sister club DRM for the ride on 4/5 May. Rafiq was brought to the clinic in May to be used as a demonstrator and helped to sew fundraiser "feed bag bags" at Carrie's house. She rode in all of the MTRC rides this season and worked with Angela Roberts to coordinate the year end awards for the Awards Night Out on 23 November.
Secretary's Report: Angela Roberts stated the following:
What can I say?! What a successful year we've had! So many new faces. Welcome to the family! We truly hope that you enjoyed your first year with us and we look forward to seeing you at future events.
I would like to take a moment to focus on the volunteers. Welcome Newbies! Thank you for your trust in us and our ability to mentor you! And to the regular, steady crew of volunteers and those of you that come out just to support your friends and their crazy ideas, thank you. These rides are volunteer efforts and without you, they wouldn't take place. To everyone who has marked or demarked a trail, stood out in the cold and wet to scribe or offer assistance to anyone in need or offered any service of any kind to any of our Ride Managers and/or participants, thank you. Sometimes we put in an effort and feel that we have not been recognized but please realize, you are ALWAYS appreciated. We are grateful to all of the volunteers for the personal sacrifices that they make to help us.
To our Ride Managers, without you, there would be nothing. Thank you for taking on the onerous task of creating these events and allowing us the opportunity to enjoy a sport that we love.
Iris, thank you for everything that you do. You fill in all the gaps when we don't have enough support. You are an incredible person and we have been very lucky to have you as our President and I am very lucky to count you as my friend.
And Darice, our intrepid photographer, thank you for tromping around out on the trail, when you aren't out riding your Barbie pony, getting wonderful photos of our riders. And to the many hours spent, making sure that we look our best, wink, wink. I am also very happy to hear of Tia's recovery; you must be very happy to have her back.
Overall, it has been a great season. Many new faces, new ride managers, and fairly decent weather throughout. MEC was a little nicer this year, which was a bonus and Spruce Woods, well, at least one of the days was lovely.
Board Member at Large: Kelli Hayhurst just wanted to put a reminder out there that, according to the agreement at last year's AGM, the floor is now open to discussion for merging the two clubs. We have managed to combine some our efforts very effectively (equipment and non-ride events) and could use our resources better if we are one club.
MHC Representative: Iris Oleksuk stated the following:
Cyber security: The computers at MHC were down for about three months. Everyone needs to watch for fraud. Backup your information. Use a remote hard drive or a stick.
Financials: 50/50 netted about $2900 which goes to facility upgrade. We did a survey about the fundraiser.
John Savard: Growth of MHC is stagnant over the past there years. Insurance: Send memberships in by early May at the latest. Safe Sport: Coaching Levy in place by 1 April 2020. Brochure attached. For questions about Coaching Levy go to mhc.admin@sportmanitoba.ca.
Marketing Report: Highlight was Horse Day 1 June where a trail or wagon ride went through the Pa Am course which was 20 years prior. Kirsten discussed a Ladies Retreat at MHC Grounds a partner's program such as CAA has. She discussed targeting younger riders as well as Golden Spurs, which are riders getting back into horses. Let MHC know any upcoming events. When putting info onto an event page have MHC as a cohost. This way they get the info from Facebook.
Multi-Discipline Team Challenge: |Most liked the new format but suggestions were for a different time. If we can get our ride schedule in to MHC, they won't steal our dates.
Recreation Grants applications are due by 31 Jan 2020.
Lotteries grants/payouts: End of Jan for previous six months and then the expenditure sheets need to be reconciled. Ours need to be in by the end of Nov.
Annual Awards Nominations are due by 27 Jan 2020. Volunteer of the Year, Youth Athlete of the Year, Adult Athlete of the Year, Horse of the Year, Horse Industry Professional of the Year.
Deferred Business
MHC Grant: Susan Heald has been working on the Grant request. At the last DRM meeting, with the MTRC Executive in attendance, it was decided that because the well at Belair was not going to be approved, as it is a forestry zone, we would request the money for new individual pens at Spruce Woods Main Equestrian Campground. Each club would put in a request for one 20' x 20' pen. Cost is as follows:
20' x 20' pen = $1029
Installation = $220
Signage = $100
For a total of $1349
MTRC would be requested to expense $455 towards the pen and its installation.
Motion to commit the funds necessary, up to $800, to apply for the MHC Grant by Kelli Hayhurst, 2nd Susan Heald, carried.
Bud, Spud and Bird Fundraiser: Linda Gillies is the prize coordinator for the event and has distributed a cover letter for donation requests. She has asked that each member either provide a prize donation or request from outside.
Nomination and Election of Officers: Iris Oleksuk, Angela Roberts, and Terry McKee will continue to their second term. Kelli Hayhurst has agreed to be chairperson for the nominations and Susan Heald and Tricia Mason are assigned as scrutineers.
Nominations for board members:
Nominated Nominator 2nd Nominator Accepted
Mary Anne Kirk Angela Roberts Linda Cruden Yes
Brenda Tolpa Terry McKee Judy Olson Yes
Judy Olson Iris Oleksuk Linda Cruden No
Linda Cruden motioned to cease nominations, 2nd by Troi Anderson, carried
Mary Anne Kirk and Brenda Tolpa have been elected to the board.
Nominations for President Position:
Nominated Nominator 2nd Nominator Accepted
Iris Oleksuk Susan Heald Mary Anne Kirk Yes
Susan Heald motioned to cease nominations, 2nd by Troi Anderson, carried
Nominations for Vice President:
Nominated Nominator 2nd Nominator Accepted
Terry McKee Angela Roberts Linda Cruden Yes
Angela Roberts Troi Anderson Mary Anne Kirk Yes
Brenda Tolpa Carrie Wilson Angela Roberts Yes
Linda Cruden motioned to cease nominations, 2nd by Susan Heald, carried.
Motion to destroy ballots by Linda Cruden, 2nd by Angela Roberts, carried
New Board for 2020:
President Iris Oleksuk
Vice President Angela Roberts
Secretary Terry McKee
Treasurer Mary Anne Kirk
Board Member at Large Brenda Tolpa
MHC Rep (Non-elected posn) Judy Olson
New Business
Bylaws: A copy of thebylaw changes are attached and highlighted. Further discussion with regard to signing authorities, changes made to the proposed amendment.
Changes to reflect that Treasurer, or President or Vice President may sign on behalf of the organization when only one signature is required but the Treasurer and either the President or Vice President may sign the cheques issued by the organization or where more than one signature is required; and, the President or a delegate shall chair all meetings of the Association and the Board of Directors.
Motion to accept the bylaw changes as provided and proposed by Kelli Hayhurst, 2nd Susan Heald, carried.
Membership and Ride Fees: Iris Oleksuk proposed increasing the Novice and Open Division Ride fees by $5, and Elevator rides would be increased $5 accordingly.
Motion to accept the proposed fee increases by Troi Anderson, 2nd Kelli Hayhurst, carried.
Motion to change junior ride fees, for all junior riders as per the definition of junior, to $10 regardless of distance by Kelli Hayhurst, 2nd Carrie Wilson, carried.
Division Awards: Training, Novice and Open divisions, both senior and junior, will remain the same no change.
Ribbons, Year End Awards: Will remain the same
Volunteer appreciation: Each Ride Manager has been looking after their own volunteers and they have been acknowledged on the website when the results and recognition are posted.
Vet Recruitment: Susan Heald has agreed to take on this position again for the 2020 season.
Requirement for EIA (Coggins): It was decided that the requirement for a Coggins test would be reflected on any literature that "A negative test will be required, at minimum, once per current calendar year, or more often at the discretion of the Board".
Judy Olson will reach out to John Savard at MHC about organizing a group Coggins Testing for the upcoming ride season.
Website: Carrie will provide ride result template to Iris for ease of inputting. She is posting everything to both the Facebook page and the Website, this is a big job and she is looking for a volunteer to help out as she is looking after both DRM and MTRC websites at this time.
Zoho: If MTRC is interested in trying out Zoho, Carrie has requested that someone volunteer as a ride registrar and she will train how to use the program, as she is unable to be the sole registrar for both clubs. This will be deferred to the Jan meeting.
Ride Clinic: Nothing formal, just a practice ride. Clinics have been well received. This will be deferred to the Jan meeting.
Awards Night: 23 November at Cooks Creek Community Centre. Pre-purchase of tickets is required. For those bringing food, please be at the venue for 6:00 pm. MTRC to reimburse for the hall deposit, $350, and reusable flatware, $92.41. Iris Oleksuk will present mileage awards and Terry McKee will present the Year-End awards.
Other agenda items:
Bud, Spud and Bird tickets are available for members to sell. They will be available at the Awards Night as well.
A detailed inventory list has been created. This list breaks down inventory by Club. Attached.
Next Meeting: Saturday, 11 January 2020 at Iris Oleksuk's home 10:30 AM
Meeting Adjourned: 11:24 AM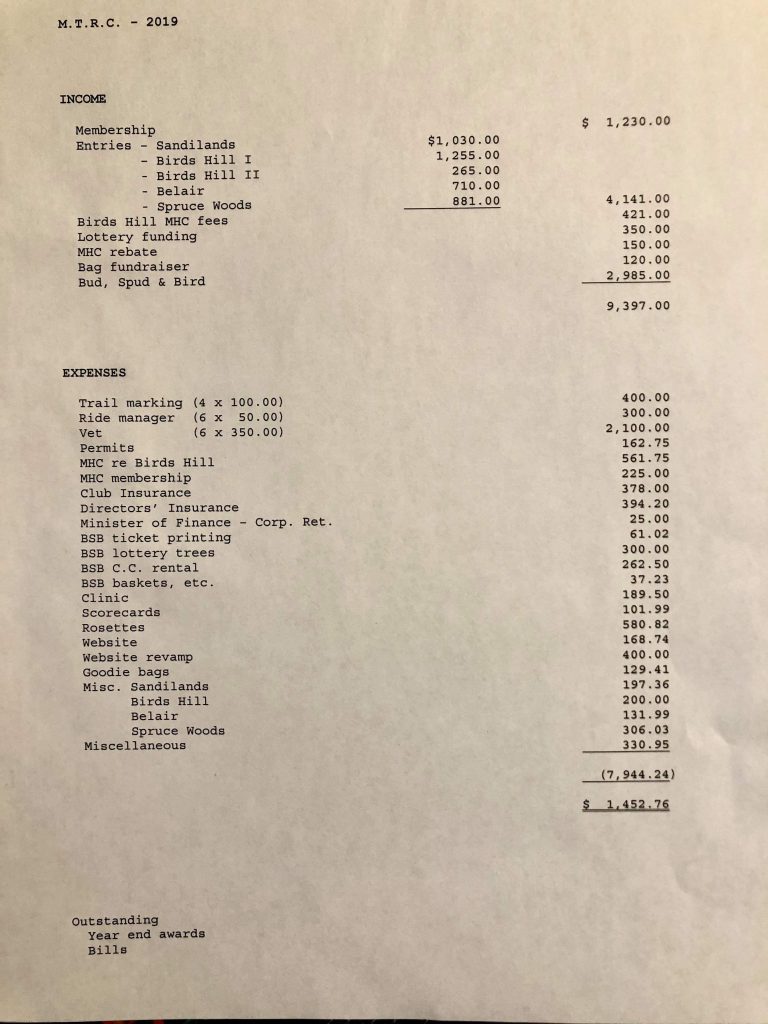 Ride Camp Equipment
Qty.
Description
Notes
Ownership
24
Clipboards
6 missing
10 DRM/14 MTRC

1
Container Pens, Markers, Stapler, Staples, Hole Punch
MTRC
3
Heart rate monitors
MTRC
1
milan Digital Watch
MTRC
1
Timing Clock
MTRC
1
Scale
MTRC
2
Brochure Holders
MTRC
5
Horse Markers
MTRC
1
Stethoscope
MTRC
1
First Aid Kit
MTRC
1
Tiny Stapler
MTRC
13
Dry Erase Markers
MTRC
Box
Garbage Bags
DRM
34
Cones
24 DRM/10 MTRC
2
Folding Tables
DRM
2
Canopies
1 MTRC/1 DRM
2
DRM ride camp signs in sandwhich boards
DRM
4
white boards
2 DRM/2 MTRC
1
measuring tape
MTRC
1
garbage bin
MTRC/DRM
70 (approx)
cups and lids
MTRC
1
MTRC banner
MTRC
1
MTRC wood ride camp sign
MTRC
1
dolly/step ladder
MTRC
1
storage rack
MTRC
napkins/toilet paper/ lunch bags
MTRC/DRM
tote bags for sale
MTRC/DRM
MTRC prizes
MTRC
horse numbers
MTRC
string
MTRC/DRM
4
blue barrels (troughs)
DRM
2
water cube/tote
Angela Roberts has one
DRM
4
pails for securing canopy
MTRC/DRM
DRM and MTRC ride camp signs
MTRC/DRM
DRM volunteer vests
DRM
MTRC Merch
Quantity
Size
Notes
Ownership
8
L Decals
Not counted
MTRC
4
S decals
MTRC
1
M mens black tank
MTRC
3
M womens black tank
MTRC
5
L womens black tank
MTRC
3
L women's white tank
MTRC
4
L purple mentor tshirt
MTRC
1
XL purple mentor tshirt
MTRC
5
M purple mentor tshirt
MTRC
Trail Equipment
Quantity
Size
Notes
Ownership
Miscellaneous Trail Materials
34
Equestrian Trail Event Laminated Signs
6 missing
DRM
2
2 mile markers choroplast
MTRC
2
5 mile markers choroplast
1 missing
MTRC
4
10 mile markers choroplast
MTRC
2
1/2 mile markers choroplast
MTRC
1
Helmet Bag of binder twine
DRM
1
Tube white and orange ground flags
MTRC/DRM
1
container of Windex wipes
replenish
MTRC/DRM
5
Hi-Visibility Vests
MTRC
1
Bostitch Stapler Set
MTRC
1
Arrow Staple Gun
replenish staples
MTRC
1
Package of Markers
MTRC
1
Package of Highlighters
MTRC
few
Pie Plates
replenish
MTRC
5
Wooden Stakes (good for vampire attacks)
MTRC
200 (approx)
clothes pins
MTRC
Marking Ribbons
1
Bin of made ribbons
MTRC/DRM
14
rolls of red
DRM
15
rolls of pink
DRM
9
rolls of yellow
MTRC
8
rolls of green
DRM
7
rolls of white
DRM
8
rolls of tiger
MTRC
1
rolls of candy cane
MTRC
10
rolls of blue
DRM
6
rolls of purpose
MTRC
1 bag
misc. cut ribbon
MTRC/DRM
Spray Paint
2
Pink
MTRC
3
Yellow
MTRC
1
Purple
MTRC
0
Orange
replenish
0
Blue
replenish